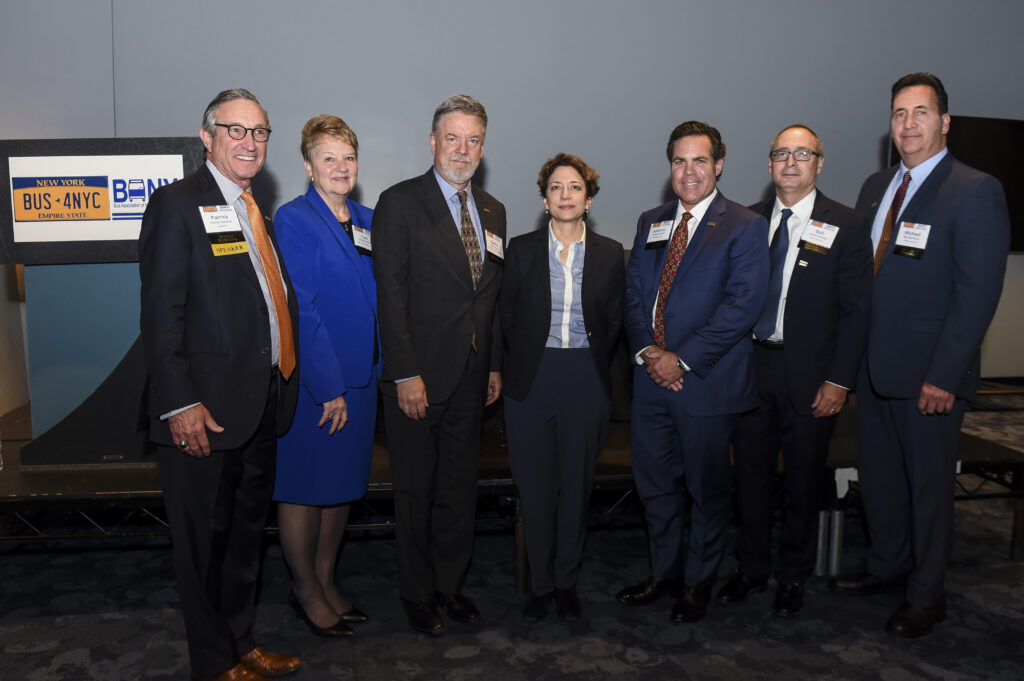 (New York, NY – October 30, 2019) — To fight New York City congestion, sometimes you have to go "back to the bus." That's exactly what over two dozen of private operators of public transportation highlighted at a forum hosted by BUS4NYC and the Bus Association of New York State (BANY) Tuesday afternoon on operating a bus in New York City and the issues bus operators face from lack of bus parking and bus lanes to idling laws, mobility, high tolls and congestion pricing. Link to photos from the forum can be found here.
NYCDOT Commissioner Polly Trottenberg, Council Member Keith Powers, tourism professionals, community leaders and bus operators throughout the northeast attended the forum at National Geographic Encounter: Ocean Odyssey in Midtown Manhattan to facilitate potential solutions to solving congestion issues in NYC. Mobility solutions discussed include adding capacity in the redesign of the Port Authority Bus Terminal, using technology to enhance mobility, and implementing additional bus infrastructure such as dedicated bus lanes and signal priority for buses to improve travel times. Thought leaders and industry experts also agreed that the Traffic Mobility Review Board, which will formulate congestion pricing policies, should include an individual from the bus industry, as buses are a critical component of fighting congestion. There was also agreement among leaders that NYCDOT's pilot neighborhood delivery zone initiative should include buses in the future.
The early successes of the 14th St. busway, which has seen bus speeds improve about 30 to 40 percent while increasing ridership, was also a main topic of conversation and a potential model for how to reimagine our streets to prioritize public transportation in the future. The conference also came on the very day the New York City Council passed the DOT Master Plan legislation, which aims to improve bus service for both public and private buses by adding over 150 miles of dedicated bus lanes, camera enforcement and bus signal priority at thousands of intersections across the city.
"Buses are a critical part of the solution to our urban mobility challenges, moving millions of people annually, with each taking over 50 single occupancy vehicles off the road, reducing our carbon footprint and providing the economic engines that power our region," said Glenn Every, President of BUS4NYC. "We are thankful to Commissioner Trottenberg for her leadership and partnership in working together to promote public transportation. We also thank private bus operators who participated in the conference and share the common core objective of delivering safe, quick and reliable bus service."
"Thank you to the private bus industry as we work together on some of the biggest challenges with operating on streets in New York City," said NYCDOT Commissioner Polly Trottenberg. "We appreciate the work you do, the transportation and economic value you bring to New York City, and we welcome our partnership to look for ways to better manage our city streets to tackle congestion."
"When I was running for office two years ago, it seemed like a crazy idea to close down 14th St," said NYC Council Member Keith Powers. "I campaigned on the bigger picture, having a grand idea around transportation, prioritizing people, bikes, and buses—and it is coming to fruition with the success of the 14th St. busway. I look forward to working with BUS4NYC to increase mobility, speed up travel times, and reimagine our streets to prioritize public transportation."
BUS4NYC was formed as a 501 c 6 non-for-profit earlier this year to advocate for the private providers of public transportation that power the NYC region. With the core values of four P's: Pricing, Parity, Parking and People, BUS4NYC has been advocating for bus-friendly policies that promote the private bus industry.  The BUS4NYC/BANY Conference was sponsored by a variety of stakeholders who recognize the importance of private bus operators in and around the region, including Lancer Insurance, the Broadway Association, Broadway.com, Swarthout Coaches, NYC & Company, Petro-Canada and National Geographic Encounter: Ocean Odyssey.  For more information on BUS4NYC, please visit www.bus4nyc.org. For more information on BANY, please visit www.www.banybus.org.